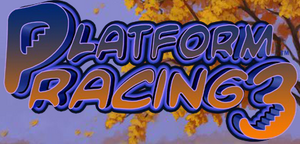 Welcome to the Official Wiki of Platform Racing 3 Wiki
Edit
The official wiki for Platform Racing 3. You can make information about your map, people, and other people's maps. In that case, this wiki can be filled! If you can't think of a page, go click random page.
This wiki is new
Edit
This wiki doesn't have much experience. Edit it to make future newbies turn into pros fast. In fact, that newbie may also be your friend in the future. This wiki is planned to be the most active PR3 wiki.
Video Pages
Edit
If you have a page about a PR3 video, just type "VIDEO - " before the name of the video. This will making searching video information much easier.
Latest activity
Edit
This is any updates you can see. Look if you want to, and maybe you can help with a recent page. =D
Community content is available under
CC-BY-SA
unless otherwise noted.